When do I start my pond algae treatment? This is going to be different for everyone because of temperature and severity of growth. The easy answer to this question is: treat when you notice algae growing in your pond. However, sometimes you can have algae growth early in the season. When this happens, we tell pond owners to be patient! Continue to add dye and bacteria, but hold off on your pond algae treatment. I know, I know…a chemical company telling you to hold off on treatment. As much as we want to sell our products, we want our customers to be successful while using our products, because we know they will come back for more when they are successful.
Pond owners are often tempted to start treating when water temperatures are too cool. Pond algae treatments should be administered when water temperatures reach at least 50°F. Do not go by air temperature! While algae may be present in water temperatures cooler than 50°F, the growth is in a dormant state. Dormant pond algae will not be absorbing a significant amount of nutrients, much less any algaecide treatments.
Therefore, it is imperative to keep pond dye and pond bacteria in your pond early in the season. These products won't stop pond algae growth, but they will help slow the rate of growth making it more manageable once water temperatures reach a point that you can start using copper based products to control the growth.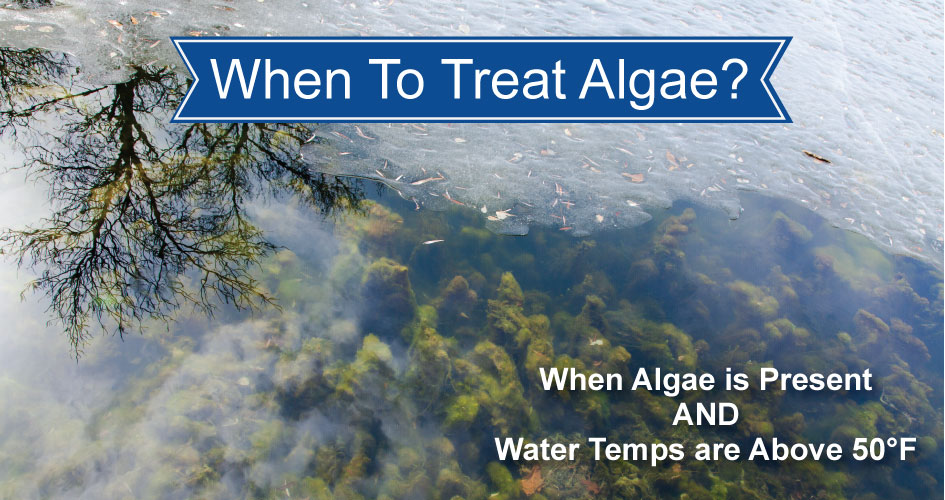 In the meantime, be sure you identify the type of pond algae growing and you know the size of your body of water. There are two copper based products you can use for your pond algae treatment, Copper Sulfate Granular or Crystal Plex. The type of algae you have will determine the best product to be used; check out Part 1 of this blog series "Different Algae Require Different Pond Algae Treatment" to pinpoint which copper product best controls your particular type of algae. Get your product purchased and ready so that you can spray your algae as soon as the water temperatures are appropriate.  Pond algae treatments will generally need to be done every 10-14 days until algae growth subsides.
Next Monday we will release Part 3 of our Pond Algae Treatment Series: Will Pond Algae Treatment Hurt My Fish?
Part 1: Different Algae Require Different Pond Algae Treatment
Part 2: When Do I Start Pond Algae Treatment? (Current Post)
Part 3: Will Pond Algae Treatment Hurt My Fish?
Part 4: Why Is My Pond Algae Worse Than My Neighbors?