Ocean Blue is a turquoise pond dye that will give your pond a bluish-green color. Turquoise pond dye is the most tenured of all pond dye colors. Soon after turquoise came, royal blue, and then black. If you are a pond owner that prefers their pond to have no green tint, Ocean Blue is not the pond dye you should be using. We recently had a customer who purchased 4 gallons of Ocean Blue for a 2acre pond. The customer applied all 4 gallons and was upset that the pond had a blue-green tint. After some discussion, we decided the best color to achieve the look he was after was the Black Out. The customer wanted to make his pond a deep dark color.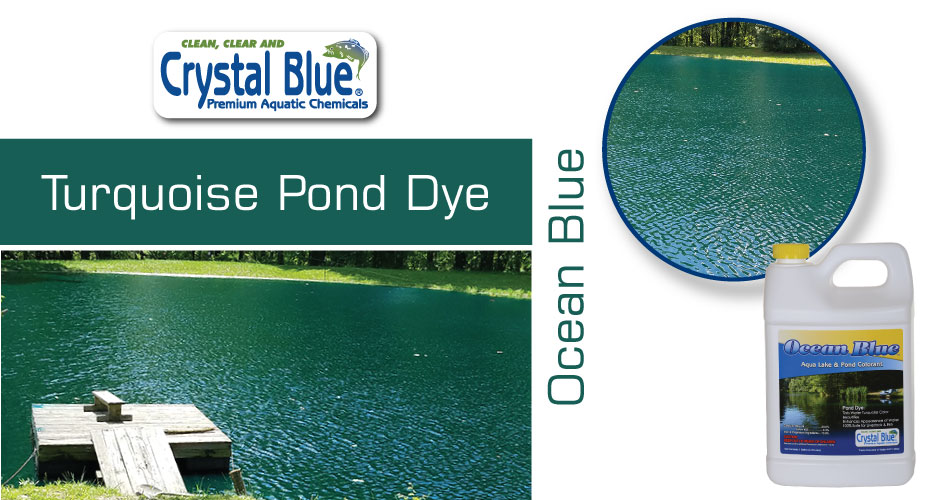 While ponds don't take the same dye the same way, you can use our descriptions and sample photos to get an idea of what color you think would be best for your pond. Check out our blog post on "Variations in Pond Dyes". We also encourage pond owners to start off with the dosing that is recommended on the container. All of our pond dye dosing starts at 1 gallon for every acre with an average depth of 4-6 feet. Once you have dosed your pond and waited 48 hours if you want to add additional dye that is fine, but I would start with our recommended dosing first. If no change occurs, before adding additional dye I would consider the following: Did you measure the pond correctly, did you have significant rainfall after application, do you have heavy outflow?
If a subtle blue-green color is the color you prefer for your pond, then Ocean Blue (turquoise pond dye) is the product you need. For more information on Sanco's pond dye options contact us.