Testimonials
I wanted to tell you that what we did worked. My pond really looks good. I did not think this was possible. There is still a very small amount of watermeal, but I mean a very small amount. It has been better all summer but I did not contact you until now because it usually takes until mid-summer for it to get really bad. I am convinced. The Tsunami DQ works.
Before Treatment

After Treatment

- Andy J.- Chapel Hill, NC
"Crystal Blue products are awesome!!! The Crystal Blue and Natural Pond Cleaner make my ponds clean, clear and crystal blue with very little effort. The residual effects of Crystal Plex is amazing. I used to treat for algae along the edges every week, now I treat once a month if that. Your products have made pond owning and care a true pleasure not a chore. THANKS."
- R. Brown- New Jerusalem, OH
My back yard pond LOOKS GREAT! Better than any other year thanks to your Deco-Pond Products. Taking care of my pond is so much easier than it used to be."
- Chris H.- Wooster, OH
"Dear Glenda, I want to thank you again for the help you gave me after our telephone call about my pond fountain. The information you sent solved my problem. I have been most pleased with this unit since it was installed in my one acre pond last winter. I was having trouble with the water oxygen content and had a fish kill before getting your unit. No problems since and it's lovely to look at.Thank you again for your excellent service."
- J.D. Henry- Gainesville, FL.
"Rust Kutter has saved me thousands of dollars in equipment repairs and replacement. Rust Kutter is incredible. My bale feeders last 3 times longer than they used to and all I do is spray Rust Kutter on them during the grazing season and let Mother Nature do the rest. THANKS SANCO!"
- J. Bowman- Salina, KS
"Marketing Support, Innovation, Product Displays and more. Sanco delivers first-rate service and an aquatic program second to none. We have seen double-digit growth every year for 5 years. "
- PD- Sales Mgr. MO- Farm Retail
"Sanco continues to break new ground with the development of new copper technology. The 4 season pond program has helped us teach our dealers how to better educate the end user. Everyone has benefited greatly from this simple approach. The product displays have been fantastic in the continuing education of our customers. "
- RK - Buyer- National Distributor
"Crystal Blue has developed a loyal following at our stores. We have customers that will drive 30 miles to pick up a gallon. The step-by-step program makes it easy for our sales people to educate pond owners on the basics of aquatic management."
- JL- Freshfarm Feed and Seed, TX
"I have been using your pond supplies for 2 years and they all work great. The Crystal Blue products are awesome!!! The Crystal Blue and Natural Pond Cleaner make my ponds clean, clear and blue with very little effort on my part. I use to treat for algae every week, but now I only have to treat once every 2 months. Your products have made my job of pond maintenance a snap. Caring for my 1/2 acre pond is very easy and my wife loves the blue color. Thanks."
- Jack F.- Cantonment, FL
"Great company with knowledgeable friendly staff!! I have a couple of years to go to make my pond beautiful, but glad I'm doing this with help from professionals who know what they are doing. Thanks Sanco Inc!"
- B. Kowssarie- Montpeilier, OH
"I have used Natural Pond Cleaner and the results of clearing up murky water and sediment in the stones has been amazing!"
- Michael R.- Swanto, OH
"I have been ordering your pond products for awhile. Both of our ponds have shown noticeable improvements. The color is great and the spring algae is gone. I would recommend your products to anyone."
- Bill- Greenville, SC
Pond Champs has been doing pond maintenance for several of our community associations for many years. They go above and beyond to keep up on the routine maintenance on all of the ponds. They are professional and their services are offered at a great price.
- North Eastern Group
"For the past 5 years, Pond Champs has provided excellent service for 7 ponds in the Bridgewater neighborhood. The number of calls from homeowners complaining about the ponds has been reduced to maybe one call a year. We are so pleased with the results of your work and want to thank you for all you do for us."
- Bridgewater Homeowners Association- Fort Wayne, IN
I just wanted to let you know what wonderful service and great experience we had with Pond Champs. I have recommended you to anyone who has a pond. The technicians did an excellent job and was I was both surprised and pleased with everything. I will gladly serve as a reference any time. Thank you so much!
- Jodi C. Pond Champs Customer
I had the pleasure of making a treatment schedule and dosing for a customer in my hometown that wanted to self-treat. He spent around $300.00 with us and treated twice to get the results below.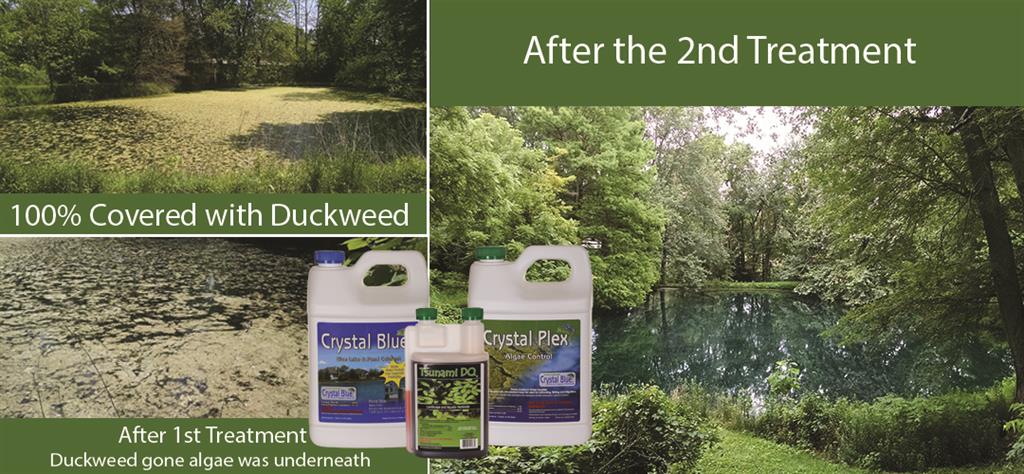 - Ebbert Pond- Indiana
Sanco products really helped to clean up my pond in about 3 weeks. It's nice to use a product that does what it says it will do. Thanks so much for the help!
- K.B