We get many phone calls a day in the office coming from pond owners that need help maintaining their ponds. Because there are so many different variables that could be causing the problems, we do the very best we can to identify the problem(s) and start trouble shooting to correct the problem. Often times there is a significant amount of trial and error involved when solving a pond problem. It is rewarding to have customers contact us with comments like the one below.
"I thought you'd appreciate a nice photo of our lake. Its only the center. But they turned out so well. This is officially the first year we have been able to maintain and control our lake. Thank you so much!!!"
Rachel S.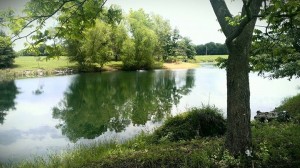 For help on maintaining your pond contact the experts at Sanco Industries.