I love when we can help a customer transform their pond.  However, I'm always cautious about posting before and after pond transformation pictures because every pond is different.  Pond transformations don't happen over night. A large majority of the success of a pond transformation is based on the commitment of the pond owner.  The pond owner has to be all in to transform their pond and that potentially means investing a decent amount of money and most certainly a decent amount of time.  Transforming a pond also means you are committing to regular treatments.
Take, for example, your lawn.  Anyone can get their lawn looking fantastic with some time, a little effort, and some product, but what happens when you don't mow your grass for 3-4 weeks.  The lawn looks unruly and unkept... The same is true for a pond.  Pond maintenance should be done every week in the height of the growing season and every couple of weeks in the off season (or cooler temperatures).
If you have made the decision that you are ready to take on the challenge and transform your pond into a useful recreational source of fun and relaxation, use this Before and After pond transformation picture as encouragement and incentive.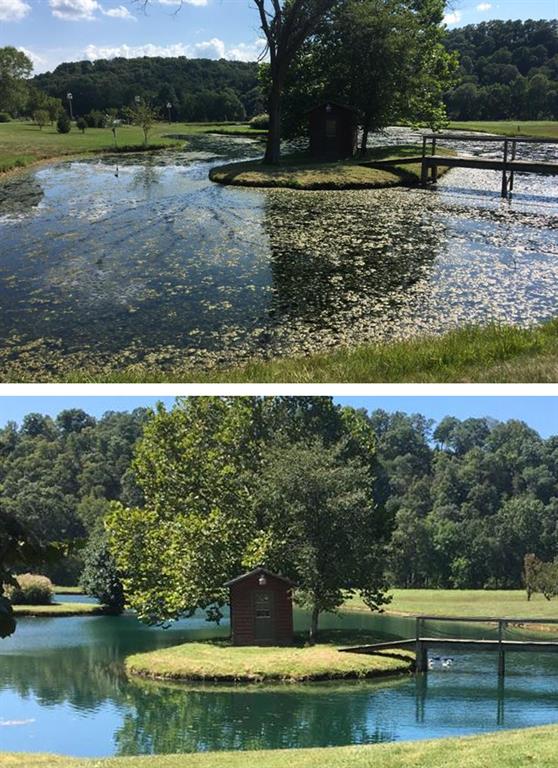 .66 acre pond in Nixa, MO  The "After" picture was taken after a couple of treatments.  The main products used to control growth in this pond were a combination of Crystal Plex and Tsunami DQ.
"Looks Great Thank to You!"  -R. Ward
Here are some helpful resources to get you started on your pond transformation.
Check out our blog series on DIY Pond Care Tips.