Pond Plant ID
Your Complete Guide to Pond Weed & Algae Type Identification for Aquatic Vegetation Control & Management
After finding out the size of your pond, the next step to treating your pond is to properly identify what you have growing. If you misidentify the growth you could be using/wasting a lot of money on pond chemicals that will give you no results. Pond weeds and algae are not the same type of growth therefore you will not use the same product to kill both. Some weeds can look like algae and some algae can look like weeds. Please refer to the images below to visually compare your growth with a picture. Let's start with Pondology. Solving Your Pond Problem. Note the key which matches a pond problem to a product that solves it.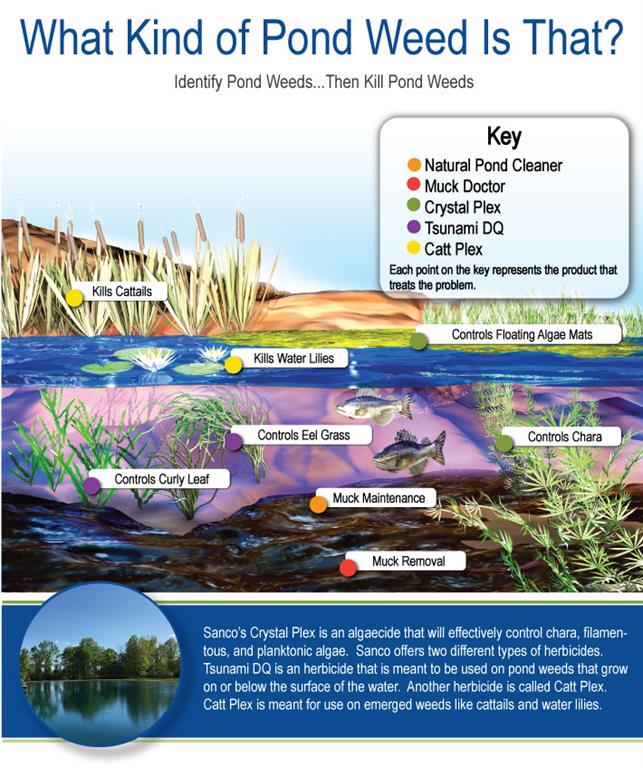 Main Types of Pond Plant Growth: Algae, Submerged/Floating Weeds, Emerged Weeds
Algae
Green water, moss, hair like algae, scum, pond scum, slime, algae mats....All of these are names that are used to describe algae in ponds. There are many different forms of algae some are very easy to identify like filamentous algae, others, like chara are mistaken for weeds.
Submerged & Floating Weeds
There are hundreds of submerged and floating weeds that can grow in ponds and lakes. We have listed some of the most common weeds. Submerged weeds are best controlled with herbicides containing diquat. Submerged weeds are weeds that are rooted on the bottom of the pond and most of the plant if not the entire plant stays under water like coontail, bladderwort, and curly leaf pond weed. Floating weeds are plants that float on the surface of the pond or lake. The water will regularly wash over the top of the plant if the surface is disturbed at all like duckweed.
Emerged Weeds
For plants that grow up out of the water you can use a glyphosate based herbicide that will kill the plant to the root. Our Catt Plex is a glyphosate based herbicide that is approved for aquatic use.
Or view the Center for Aquatic and Invasive Plants.
For more questions about Pond Plant Identification Contact Sanco.