Knowing which products to use can be the biggest struggle in pond maintenance. Creating a healthy pond environment is all about inhibiting algae and weeds and slowing their growth down so that it is easier to manage. This guide will help you decipher which products to use and when to use them.
Start with preventive maintenance products in early spring as soon as the water thaws. Use pond dye and pond bacteria at the rate of 1 gallon per acre with an average depth of 4-6 feet deep. Simply pour both products in and continue to use these products monthly or when color fades.
Keep a close eye on your pond as temperatures continue to increase. Pond algae and weeds will start to form when water temperatures increase. Use Crystal Plex for algae control at the rate of 1 gallon per acre with an average depth of 1-3 feet deep. For submerged weeds use Tsunami DQ. The average rate is 1 gallon per acre, however, this product controls a large variety of weeds, for best results refer to the label for dosing on your specific weed. If you have both weeds and algae the two products (Crystal Plex and Tsunami DQ) can be mixed and applied together.
For weeds that grow along the bank or up out of the water like cattails, use Catt Plex. Mix 3 ounces of Catt Plex, 1 ounce of Plex Mate, and a gallon of water for best results.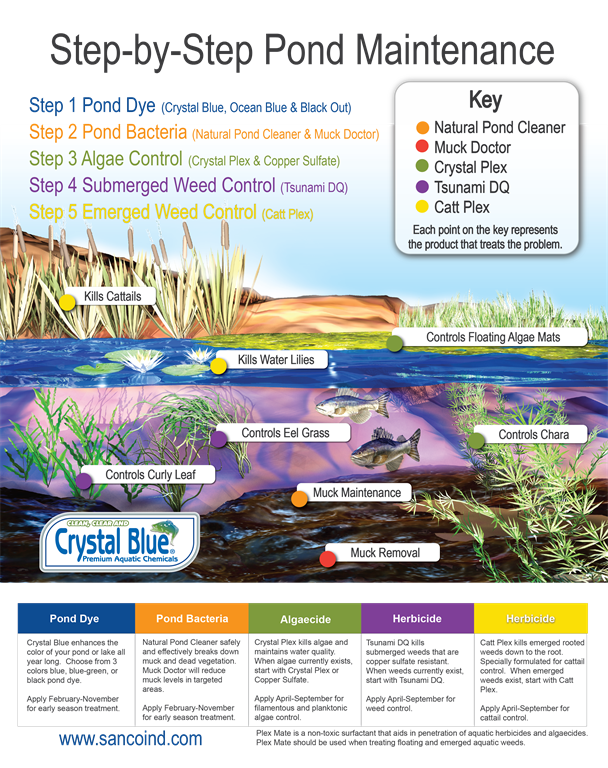 When killing anything in the pond the best way to apply is via spray application. Apply your preventive maintenance (dye and bacteria) a week before or after algae and weed applications.
Products (Current Post)
For more information on pond maintenance or the pond product to use for your pond contact Sanco.