We had a pond owner contact us about having growth in her pond and not being able to kill it. She explained she has been using lots of granular copper with little to now result!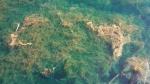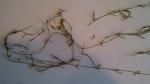 After having the pond owner send us photos of her pesky pond weeds; we came to the conclusion she had small leaf pond weed and possibly chara. Small leaf pond weed cannot be controlled with granular copper and neither can chara.
Properly identifying your growth is very important so that you do not waste your time, money and efforts! Our recommendation for this customer was to use a combination of an aquatic herbicide (Tsunami Dq) and a liquid copper algaecide (Crystal Plex). Unfortunately many ponds require more than just one product to get a pond in tip top shape. If you need help identifying your pond weeds check out our pond plant id section on our website or contact us.