Cattails can be a beautiful addition to a pond, but if pond owners aren't careful their ponds will be overcome with cattails. Cattails are perennials and will spread rapidly. Use Sanco's Catt Plex and Plex Mate to kill cattails to the root!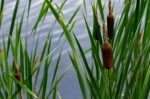 "I sprayed CattPlex and Plex Mate last year on cattails that were growing in two ponds in the spring as they were just emerging from the water. All of the young cattails died within a months time. The older cattails were very thick and hard to spray, but everywhere the CattPlex/Plex Mate mixture hit, it was very effective. I would recommend these products for anyone wanting to control and eliminate cattails in their ponds. I am going to order some more products this year to spray what I missed." -Charles
For more information on how to kill your cattails contact Sanco Industries.